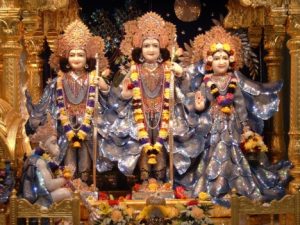 Lord Vishnu is worshipped in his human incarnation as Rama, the divine ruler of Ayodhya, on his birth anniversary known as Ramnavami. Thousands of pilgrims converge in the temples of Ayodhya and Pondicherry, two places closely connected with the events of the Ramayana (the epic describing the story of Rama), to participate in Ramnavami festivities.

Colourful processions are held, which comprise of brilliant floats of Rama, his wife Sita, Rama's loyal brother Lakshmana and Hanuman.

Lord Ram is the seventh incarnation of Vishnu, born on the ninth day of the bright half of the lunar month. His name conjures up a long and incessant cultural history of our country.

The renowned masterwork of Valmiki's Ramayana describes the birth in the following manner:

(Following the end of six seasons and the completion of the twelfth month (by the Hindu calendar)
On the ninth day of the month of Chaitra, under the star Punarvasu, with the sun, mars, Jupiter, Saturn and Venus in Aries, Capricorn, Libra, Cancer and Pisces. When the moon with Jupiter entered Cancer of the Zodiac, Kaushalya gave birth to great Ram with mighty arms and lotus shaped eyes.The preparations start early in the morning and the people take bath in the holy water and also keep a fast until 12 in the noon, when the avatar is thought to have taken place The ritualistic puja is done in the morning. Tulsidas says that placing Lord Rama's name on the tip of the tongue ensures enlightenment.

Ram Navami is also celebrated as the Vasanta Navaratri festival with the celebration starting from the first lunar day of the bright half of the month of Chaithra.