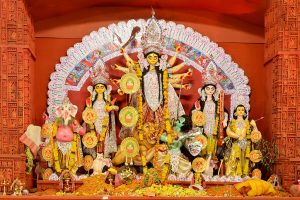 Dussehra (meaning,tenth day) is one of the main Hindu festivals, celebrated with pomp and fanfare in India. The occasion marks the triumph of Lord Rama over the demon king, Ravana. It is the victory of good over evil.
Vividly decorated pictures and processions depicting various aspects of Rama's life are taken out. On the tenth day, the Vijayadasmi day, huge effigies of Ravana, his brother Kumbhkarna and son Meghnath are placed in open spaces. Rama, accompanied by his wife Sita and his brother Lakshmana, arrive and shoot arrows of fire at these effigies. These are stuffed with explosive material. The effect is a noisy blow up, accompanied with laughter and triumph from the spectators.
Lord Rama took blessings of the divine mother, Goddess Durga, prior to the battle. In burning the effigies, the people are asked to burn the evil within them, and thus follow the path of good value and righteousness. Ravana despite his strength was ruined due to his evil conduct. He was a scholar and an ardent devotee of Lord Shiva, but he misused the powers granted to him for his committed devotion and this proved to be the reason for his downfall.