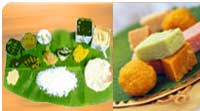 The land next to the Bay of Bengal. a coastal area with beautiful beaches and holiday resorts dotting the coast. Exquisite Kancheepuram silks and Temple sarees.
Many old, traditional and famous temples are in this region like the Meenakshi temple of Madurai. Tanjore is the home town of the famous of the famous Tanjore paintings. Madras is the capital of Tamil Nadu. It is a large metropolis. The film studios over here are the best in the country. The country knows South India as Madras, and it brings to people's minds – Idlis and Dosas. Even countries like Singapore, U.S., U.K. boast of restaurants serving South Indian foods. The people are intelligent and proud of their cultural and academic progress.
VEN PONGAL
Ingredients Recipe

Recipe

1 cup Raw rice
1/2 cup Green gram Dal
1 tsp Cumin seeds
1 tsp Peppercorns
1 tsp Asafoetida powder
2 tbsp Grated Coconut
4 tbsp Ghee
2 tbsp Oil
4 1/2 cups Water
1″ Ginger (finely chopped)
2 tbsp Cashew nuts halved and fried
Salt to taste
Lightly pound the Cumin seeds and Peppercorns. Roast the rice to a wheatish colour. Roast he Dal separately. Mix both and wash well. Add 4 1/2 cups of water and pressure cook for a whistle. Heat the ghee and Oil in a pan. Add Cumin seeds, Peppercorns, Aesofoetida, chopped Ginger. Pour over cooked rice. Add salt. Mix well. Add grated Coconut and Water if necessary. Add fried Cashew nuts and mix well.
Note: P.S. The Pongal is soft and not like a paste.
PANCHMELA DAL
Ingredients Recipe

Recipe

1 Chicken (skinned and cut into pieces)
4 Onions (chopped)
1 Coconut (grated)
1 tblspn Garlic paste
1 tblspn Ginger paste
2 tblspns Tamarind (pulp)
5 Green Chilies (slit)
1 cup Coriander (chopped)
1 tblspn Sambar powder
1 tblspn Chili powder
1 tspn Turmeric powder
1 tblspn Refined flour
5 tblspns Oil
Salt to taste.
Heat oil in a pressure cooker. Add onions and fry till brown. Add chicken and all other ingredients, except flour and coconut. Stir well. Add 2 cups of water. Close lid and cook for one whistle. Cool and open lid. Add flour. Add coconut milk mix well. Garnish with chopped coriander.
PRAWN MASALA
Ingredients Recipe

Recipe

2 large cups of Prawns (shelled and deveined)
1 cup Coconut (ground finely)
5 Onions (chopped)
1 tblspn Ginger paste
1 tblspn Garlic paste
1 tblspn Tamarind (pulp)
3 tblspns Oil
Roast & Grind
1-tspn Cumin seeds
1 tspn Mustard seeds
1/2 tspn Fenugreek seeds
2 tspns Chili powder
1/2 tspn Turmeric powder
Heat oil in a pan. Fry onions to a golden brown. Add ginger garlic paste. Add Masala and prawns Fry on low heat adding water as required. Add tamarind pulp, salt and coconut paste.