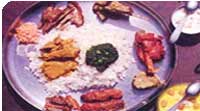 Kashmir – The heaven on earth. Surrounded by the snowy peaks of the Himalayas, evergreen and beautiful with rivers like the Jhelum running through this paradise. Houseboats, flowers and fruits can be found all around here.
The people here are as beautiful as the land with rosy cheeks, fair complexioned and golden eyed. The valleys are carpeted with colorful flowers. The streams form lakes in the meadows. These lakes have Trout and other fish, which are great delicacies. The forests are also thick and abundant. The food here is basically meat based and the use of dry fruits is also extensive. The climate is such that the natives and also the tourists develop ravenous appetites and really tend to enjoy their nourishment.
KASHMIRI ALU DUM
Ingredients Recipe

Recipe

1 kg Potatoes peeled
1 tsp Cumin seeds
1 tsp Chilly powder
1tsp Turmeric powder
1tsp Coriander powder
1/2 tsp Garam masala
a pinch Asafetida
2 Cloves 2 Cardamom
2 Bay leaf
2 sticks Cinnamon
(1") 2 cups Curds
2 tsp Khus-Khus or poppy seeds
2 tbsp Cashew nuts (Note: Soaked and ground to a paste. 2 to 3 tbsp oil. Salt to taste).
Wash and peel potatoes. Prick with a fork and deep fry to a golden color. Heat 2 tsp oil in a pan. Add cumin seeds and Asafetida .Add all the masalas. Add the potatoes and one cup of water. Bring to a boil. Beat curds and add. Cook till potatoes are soft adding water as required. Add the Khus-Khus and Cashew paste. Mix well. Serve hot.
NARGISI KOFTE
Ingredients Recipe

Recipe

1/2 kg Paneer or cottage cheese
1 tsp Turmeric powder
1 tsp Corn flour
1/2 tsp Cumin seeds
1/2 tsp Coriander powder
1/2 tsp Chilly powder
1 tsp Garam masala
1 tsp Sugar
2 Onions (marinate and paste)
1 cup Curds Salt to taste
1 cup Coriander leaves (chopped)
Mash Paneer well add salt. Divide into 2 parts. Add Turmeric powder or yellow colour to one part. Add corn flour to the other part. Make yellow balls covered with white paneer to look like boiled eggs. Deep fry to a golden colour. Heat two tsp oil in a pan and now add Cumin seeds. Add the other masalas and onion paste, salt and sugar and fry them. Add beaten curds ,add water if required. Slice the koftas and place in a dish. Pour gravy over these and garnish with fresh coriander leaves.
GULMARGI GHOST
Ingredients Recipe

Recipe

1 kg Mutton (cubed)
2 tsp Aniseeds (saunf) powdered
1tsp Dry Ginger powder saunths
6 Cloves
6 Cardamom (crushed)
3 cups Curds
2 tsp Garam masala Oil
4 tbsp Salt to taste
Heat a pressure cooker; add meat and brown till meat is firm. Add 2 cups of water and cook in the pressure cooker for 1 whistle and low flame for 5 minutes. Open cooker and add powdered Aniseeds, powdered Ginger and Cloves and crushed Cardamom. Add beaten Curds and Salt. Stir well and simmer on low heat. Add Garam masala. Serve hot.
DUM MACCHI
Ingredients Recipe

Recipe


1 kg Fish (large slices)
1/2 tsp Turmeric powder
1/2 tsp Aniseeds
1 tsp Ginger paste
4 Kashmiri chillies
1 tsp Cumin seeds
1 tsp Coriander powder
1 tsp Chilly powder
1 to 1 1/2 cups Oil
1/2 cups Curds Salt to taste
Wash and slice Fish. Mix turmeric and powdered aniseeds apply on fish and leave for an hour and a half to two hours. Heat oil and deep-fry the fish. In the remaining oil add all the masala and fry lightly. Add curds and cook for 5 minutes. Add fried fish and Salt to taste. Cover and cook on low heat till fish is tender. Garnish with fresh Coriander. Serve.