All fun and no work did make Ramba a lovable girl.
RambaAngelic face, well supplemented by a great body is what Ramba is in a nutshell. The pit-audience as well as the elite, love her not just for the sake of her sheer sex appeal but for the child-like quality which is etched all over her being. While her body language reminds you of that carefree attitude of a fun-loving schoolgirl, her luscious body proper is not that of a school kid but gorgeous enough to tickle any full-blooded man to squirm in his theatre seat out of sheer sexual excitement.
Ramba barged into the Tamil filmdom with the release of a light-hearted comedy "Ullathai Alli Tha". The Sunder C film had enough heart to relate to the hearts of the thronging audience. Ramba, as she bared her thundering thighs in a red micro mini that constantly fanned up in the air, made the ogling Romeos lose themselves for the new-found sex-kitten. There were many instances of her fans frequenting to theatres a hundred times over just to watch Ramba walking stylishly in her flying frock.
Ramba had hitched her wagon to the stars after "Ullathai Alli Tha" set the box-office on fire. Her next film "Sundara Purushan" with the lesser-known Livingstone, proved the dooms-dayers wrong and the imagination of the director right by all means. Clad in translucent white saris, Ramba got wet at the drop of a hat and she never paused before posing for revealing photographs of bewildering variety that show-cased all her sexual oomph.
But if she thought that oomph was just enough to carry off a film, she couldn't have been more mistaken. "Raasi", a shabbily made romance that followed right after, miserably bombed at the box office. As is customary in the Indian film industry, its failure affected only Ajith's career, while Ramba went on a signing spree.
Her career took a good turn when actor-director Kamal Haasan signed her for his comedy "Kathala Kathala". Cast as Prabhu Deva's romantic pair, she had several scenes with Kamal Haasan too. Though, she had come to act with Kamal Haasan for the first time, shrewd Ramba managed to match up to him and many felt, she complemented Kamal perfectly.
Ramba is a good dancer if not an accomplished one; and her dancing prowess came to light with all that lewd movements in many of her films. She could distinguish herself even when dancing along with any number of group dancers. Her 'mayilu mayilu' dance with Simran, Prabhu Deva and Abbas became a big hit and Ramba became a household name thereafter. "Ninaithen Vanthai", a tearjerker that dealt with the hackneyed theme – the travails of triangular love – two sisters falling in love with the same man, had poor initial response, but went on to become one of the memorable films of Ramba.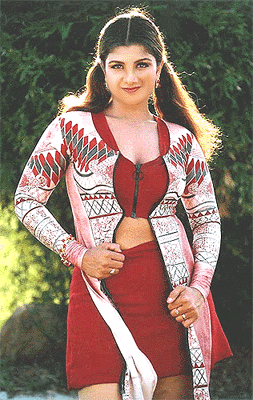 Ramba is a practical philosopher and she knew fully well that to survive in the tinsel town certain rope tricks are to be learnt hard and fast. She confers candidly, "I am very practical. Now I am young and people come to the theatres not to see me draped in a six-yard sari. It's fun time for me now. Let me enjoy this adulation for a while." It's piteous to see Ramba billed as just a sex kitten. She could act as well and the climax scenes of "Ninaithen Vanthai" did give her enough scope to reveal her histrionics. But her fan following did not buy it. They wanted nothing short of revealing her luscious body, exposed on the screen.
Hailing from Andhra, Ramba is equally famous in the Telugu film industry. It is said, once a crazy fan of Ramba landed up in front of her plush bungalow and virtually starved for days just to get a glimpse of his dream girl. The fan refused to clear out of the place in spite of the security men repeatedly warning him. Finally the police had to be called up. Then Ramba walked out of her bungalow to meet the fanatic of a fan. Thrilled to bits by that lifetime experience, the fan presumed to have said: "I have achieved my life time's ambition," and walked away coolly.
Updated on 04 – 04 – 2001
Compiled by U. Bharat.