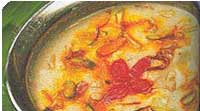 Land of the Peacocks, arid deserts and colourful tribes. Camels and elephants are a common sight. Men in huge colourful turbans and tie & dye designs. Women with cploured Ghagra Cholis, silver jewellry, ivory and bone bracelets.
Rajasthan is well known for various festivals like Teej, Janamashtami and Holi to name a few.Rajasthanis have many melas and fairs which are the pride of Rajasthan. The food of Rajasthan due to the arid and desert conditions comprises of a lot of dried vegetables. The use of Dried fruit, Pulses and Gram flour is also abundant.Meat delicacies also are incomparable as Rajasthan is a princely state where hunting was a royal pastime. The meat and fowl hunted in the forest was a part of the royal cuisine. The flavour, the jewellry and beauty of Rajasthan is matchless.
DAL BAATI GATTE
Ingredients Recipe

Recipe

5 cups whole meal flour
1 cup Ghee for dipping
1/4 tsp Salt
Mix ghee in the flour, knead between palms of the hand, make a soft dough with water. Break in balls-tennis ball size. Flatten in the centre by pressing with the thumb. Keep aside covered for an hour. Roast on hot coal or hot oven till pink in colour. Place on a kitchen cloth and press to lightly flatten. Heat some ghee in a small pan, dip the Baati and remove. Serve with hot Dal.
PANCHMELA DAL
Ingredients Recipe

Recipe

1/4 cup Gram dal – Channa Dal
1/4 cup Green Gram – Moong Dal
with skin
1/4 cup Black gram – Urad dal,
with skin
1/4 cup Toor dal
1/4 cup Red lentil – Masor dal
Salt and turmeric powder

For Seasoning:
1″ piece Chopped Ginger
2 green chillis
2 cloves
2 sticks Cinnamon
2 Cardamoms
2 Red chillis
1 Bay leaf
1/4 tsp Asafoetida
1/2 tsp Cummin seeds
1/2 tsp Garam Masala
1/2 Lime
One tbsp Ghee
Soak Dals, boil in a pressure cooker with salt and turmeric adding about 2 1/2 cups of water.For Seasoning:
Heat Ghee, add all the masalas pour over Dal, squeeze half the lime. Add Coriander. Garnish.
GATTE KI SABZI
Ingredients Recipe

Recipe

1 1/2 cups Gram flour
1/2 cup Curds
1/2 tsp Cummin
1/2 tsp red chilli powder
1/2 tsp Chopped ginger
1 tbsp Chopped mint and coriander
1 tsp Ghee
Salt to taste
Cooking soda, a pinch
Oil to fryGRAVY
2 cups Curds
1 tsp Red chilli powder
2 tsp Coriander powder
1/2 tsp Turmeric powder
2 tbsp Ghee/Oil
1/2 tsp Mango powder
1 tsp Cummin seeds
1 pinch Asafoetida
Salt to taste
Garam Masala 1/2 tsp
Mix all the ingredients to make a hard dough, adding very little water. Divide into 6 cylindrical rolls. Boil 2 cups of water and add the Gatta rolls. Cook for 10-15 minutes. Keep water aside and slice Gattas into 1″ pieces. Heat oil and deep fry till golden. Remove.Heat oil or ghee in a pan. Add Cummin seeds, when they change colour add asafoetida. Mix all the spices in the curds and add to the pan. Add the water in which the Gattas were boiled. Cook on slow heat for 5 minutes. Add Gattas and Garam Masala. Cook till slightly thick. Serve hot.