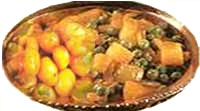 The people of Punjab are robust people with equally robust appetite. The staple food crop grown in this area is wheat. Most of their bread is based on wheat flour. Punjabis work very hard, they eat very well and enjoy a lot of merry making also.
They celebrate festivals like Holi, Baisakhi that are harvest festivals. Their merry making includes rigorous dances by both men and women like Bhangra accompanied by loud drum beats and singing. In winter the fields in Punjab are a sight to behold, when the mustard flowers are in full bloom. Their cuisine is famous all over India as well as internationally, especially Makkai-ki-roti and Sarson-ka- saag and their Tandoori cooking. The Tandoor is an earthen oven, which has a layer of coal at the bottom
SARSON – KA -SAAG
Ingredients Recipe

Recipe

1 Kg Sarson leaves
1/4 Kg Palak
1 piece ginger
4 cloves garlic
2 chopped green chillies
2 tbsp gram flour or maize flower
1 tbsp butter
1 tbsp ghee
4 to 5 chopped onions
Wash the greens thoroughly, chop well boil and mash coarsely. In a pan heat 4 tbsp ghee, add minced ginger, garlic, green chillis and chopped onions. When the masala is light brown add the mashed Saag and salt to taste. Mix maize or gram flour with little water and add to the Saag. Simmer on a low heat for half an hour to forty five minutes. Serve hot with a dollop of butter on each serving.Eaten with Makki-ki-roti.
MAKKI- KI – ROTI
Ingredients Recipe

Recipe


2 1/2 cups Maize flour
1/4 tbsp Salt
Warm water
Fresh butter or ghee
Sieve flour, add salt, and make soft dough with warm water, pat into rotis using enough dry flour for it not to stick onto your palms. Roast on both sides serve hot with a dollop of butter or ghee.
CHOLE
Ingredients Recipe

Recipe

1/2 kg channa (soak overnight)
2 Tea bags
3-4 Roast cloves
5-6 pepper corns
2 Badi Elaichi
3 Tej patta
2-3 pieces Cinnamon
Note : Remove the water in which channa is soaked and keep aside.

Powder all these ingredients. Lightly roast 1/2 to 3/4 cup Anardana cool and make a dry powder with 1 tbsp green chilly and ginger paste. Boil channa add dry powder and leave aside for an hour heat an iron Karai or girdle. Add 2 tbsp of ghee or Amul butter. Add channa and simmer for one hour. Add the boiled Channa water from time to time. Add 1 tbsp roasted and powdered jeera powder. Remove.
CHICKEN KABAB
Ingredients Recipe

Recipe


1 Chicken
3 tsp chilly powder
1/2 tbsp Haldi
1/2 inch Garam Masala
3-4 Ginger Garlic
1 pinch red color (optional)
1/2-cup curd
1 onion sliced
Salt to taste
In the curds, mix the ginger paste, pound Garlic, Garam Masala, Haldi, salt, 1 pinch sugar. Soak chicken cubes and let it marinate for 1/2 hour. Heat oil and add chicken. Fry on low fire till dry. Serve hot garnished with coriander and onion slices. Add lemon juice just before eating.
MUTTON PALAK
Ingredients Recipe

Recipe

1/2 kg Mutton
3 bunches Spinach
1″ ginger
8-10 flakes garlic
8 stalks coriander leaves
4 green chillies (small)
1/2 tsp Mustard seeds
1/2 tsp Methi seeds
1 1/2 tsp salt
4 tbsp oil
2 onions (medium sliced)
1 tomato (small chopped)
Clean and wash the mutton. Cut into 2 inch pieces. Wash the Spinach and chop finely. Grind together Ginger, Garlic, Coriander, chillies, Mustard and Methi. Add oil, fry onions till soft. Add paste and fry well. Add mutton and continue till oil separates. Add Spinach, Tomato and little water if required, and cook till done.