Sneha The wide-eyed, homely looking actress
"Pallanguliyin Vattam Paarthen…",  the song from Anandam was a smash hit. Featured in the song was the wide-eyed, homely looking actress Sneha. In a field full of Bollywood rejects and Miss Worlds, Sneha, a south Indian girl,  is the most sought after actress in Kollywood today. In recent times, it has been quite rare for an actress of south Indian origin to be as much raved about in the Kodambakkam area, as Sneha.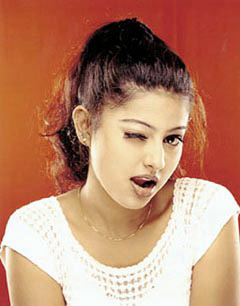 Though born in Mumbai and brought up in Dubai, she is actually from Rajamundry, Andhra Pradesh. Noted director, Fazil spotted her while doing a cultural show in Dubai and recommended her to the director of the Malayalam film Engane Oru Nila Pakshi, opposite Kunchacko Boban. Though the film flopped, she was noticed by the Tamil and Telugu industry. She was immediately signed for R.B. Chowdary's Priyamaina Neeku in Telugu, which was a major hit. She starred opposite Madhavan in her first Tamil movie Ennavale. Although the movie did not do well, Sneha became well known amongst not just the producers and directors who began to cast their eyes on this new bird, but also the fans of Tamil cinema who have been longing for a homely looking heroine for quite sometime now. All the leading Tamil magazines praised Sneha's performance in the review of Ennavale. With the release of her first movie itself, she left her mark as being a good actress, in addition to being a very good-looking girl!
Then, came the R.B. Choudary production Anandam featuring a long list of stars of the class of Mamooty and Abbas. S.A. Rajkumar's excellent number "Pallaaguliyin…" featured Sneha and she was cast opposite Abbas in the film. She looked tailor made for the role and her market rose up with the release of Anandam.
Sneha's market has ever been on the rise with releases like Pammal K. Sambandham, K. Balachander's 100th movie Paarthale Paravasam,  R.B. Choudary's Punnagai Desam and Vikraman's Unnai Ninaithu.  Virumbukiren, her movie with Prashanth has not yet hit the theatres due to the producer's quarrel with the distributors.
Sneha's recent releases include  Vasanth's Ey! Nee Romba Azhaga Irukke opposite to Shaam.  Her most recent release was King opposite to Vikram.
Sneha's much awaited movie Virumbukiren with Prashanth has still not hit the theatres due to some trouble.  The movie is complete but there is some trouble over distribution.
She has completed the movie 'April Madhathil' with Srikanth. She met with a car accident while shooting this movie and came back after recovery to complete the movie. April Madhathil will be released on Nov 29, 2002.
Sneha is currently acting in the movie Vaseegara opposite to Vijay.
Compiled by U. Bharat.