Vijay – a heady cock-tail of manliness and near feminine modesty.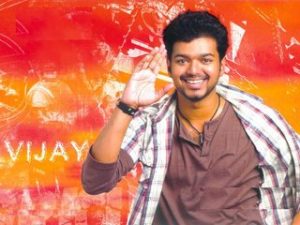 Vijay achieved success in a jiffy. He is the one man constantly vying with Ajit for the the numero uno tag. Exactly, Vijay didn't undergo much of the ordeal of a beginner when he started up in the early nineties. He didn't have to start from the scratch; after all this man has luckily got a popular director in S.A. Chandrasekar at home and as his father.
Father launched son into films with a series of home productions, like "Manbumiku Manavan" and "Sendurapandi". Early films of heart-throb Vijay were packages of lewd sequences, puns, dirty songs and garish costumes. Vijay flexed his gymnasium muscle and appeared as an action hero in most of his early films like "Rasikan" and "Coimbatore Mappillai".
Then came the necessary break from acting in third-rate action-masalas. Brainy Vikraman cast him in the breezy romantical "Poove Unakaka"-the silver jubilee hit of 1995. Vijay donned the role of a disappointed, sensitive lover, who goes out of his way to help out the lady-after-his-heart from the family feud and thereby saves her love-marriage. The film ran to packed houses. Vijay, the soft, sensitive lover has arrived at last!
The next, best film that happened to Vijay was Poetic Fazil directed "Kaadaluku Mariyadai". Cherubic Shalini, made her dashing debut in that movie. The film itself and it's catchy tunes became an over-night rage. Success after success followed.
Films, such as "Ninaithen Vandai" where in he got two damsels Ramba and Devyani to fall in love with, went on to become super hits. The popularity and success of "Love Today", "Piriyamudan" and "Once More" consolidated his salability further. His films were suddenly bought on out-right rates in the fashion of Rajnikanth's films, by the. film distributors. Producers made a beeline for his dates. The film scribes waited on him until he gave a series of flops last year.
"Nenjinile" the film without heart, "Minsara kanna" that failed to electrify the audience and "Kannukul Nilavu" that didn't ask for the moon, serially bombed at the box-office. His career graph took a strong dip. Film folks tried to write him off. Rumors were spread of his attempted suicide and about his love-life with London-based Sangeetha.
Vijay cried in agony, "Come on give me a break yaar". His quick success was his own undoing. His fans particularly young gals and guys never let him down. With the box-office success of "Kushi" Vijay has come a full circle. Director Vikraman, who made Vijay sweat for his role in "Poove Unakaka" has signed him up again for his next film. And that is a good augury!
Compiled by U. Bharat.