Abbas: A hero full of charm and dynamism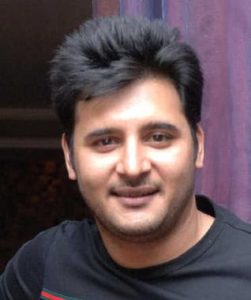 Kathir's "Kaadal Desam" introduced  a new hero full of charm and dynamism Tamil movie fans – Abbas! Within a short span of four years, Abbas has acted in more than 25 movies in Tamil, Kannada, Telugu, Malayalam and Hindi, in addition to a series of videos for the album "Yeh Hai Prem".

Born in Calcutta, Abbas had his education in Bombay. Kathir spotted this handsome hero when he was modelling in Bangalore and introduced him in his "Kaadal Desam". The movie was a superhit and dozens of offers crowded into Abbas' office. His movies include "V. I. P." (Tamil), "Poochudavaa" (Tamil), "Aasaithambi" (Tamil), " Ini Ellam Sugame" (Tamil), "Priya O Priya" (Telugu), "Jolly" (Telugu), "Raja Hansa" (Telugu) and "Shanti Shanti Shanti" (Kannada).
Some of the recent works of Abbas include the role of superstar Rajinikanth's son-in-law in "Padayappa", and the role of a Doctor in Kamal Hassan's "Hey Ram". In Rajiv Menon's recent movie "Kandukondain Kandukondain", he played the character of a young man who starts a 'Finance Company', fails in the business, loses his sweetheart (Aishwarya Rai), and marries a rich man's daughter in order to get back into his business.
Abbas starred in a series of videos for the album, "Yeh Hai Prem" by Rajshri Pictures, in 1999. The album was a super hit and made Abbas a well known face all over the nation.
Abbas holds the reputation of being able to manage movies in almost any language. His movie "Kannezhudhi Pottum Thottu" (Malayalam) released in 1999, in which he stars opposite the acclaimed Malayalam actress Manju Variyar, was a smash hit. As he does not show any reluctance to play even small roles, Abbas is always in the business, with a number of movies under his name. Abbas' recent appearance on the silver screen was as Mamooty's brother in the recent superhit "Anandam".
Abbas is usually found to be very enthusiastic in the sets and raises the spirits of all those working on the sets. He admits to being experimental with his acting. He believes that one should enjoy thoroughly in life. Says Abbas: "I'm sure that the unflinching support of my family and my ardent faith in God will take me places one day…"!
Compiled by U. Bharat.