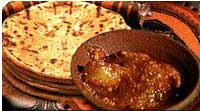 Gujarat is a peninsula in the Arabian sea teeming with wild life. Many sanctuaries are found here. People here are very traditional and dressed in vibrant colours. Milk and butter are also very important in their food habits.
Their food is based on Dals and Lentils, though the Bohras and Khojas have their non-vegetarian cuisine. The festivals celebrated in this area are the and Sankran and the Devi Pujas. They are family-oriented people with joint-family system usually prevailing. They are mostly a business community. They celebrate marriages lavishly and enjoy life to the fullest.
OONDHIYA – 1
Ingredients Recipe

Recipe

For Muthias:
1-cup besan (Bengal gram flour)
3/4 cup Hari methi leaves (fenugreek leaves)
1 tsp salt
1tsp chilli powder
Oil for fryingFor Curry:
6 medium sized potatoes
3 mediums sized sweet potatoes
3 raw bananas
4-5 round brinjals
100 Gm yam
4-5 big tomatoes (cubes)
100 gm French beans
100gm sem (sheet beans)
4 tbsp till roasted and pounded (sesames)
4 tbsp wet groundnuts
1/4 tsp thymol seeds
1/2 tsp cumin seeds
1/2 tsp gram masala
A large pinch of asafoetida
1 tbsp sugar
1/2-grated coconut
3/4″ piece ginger (paste)
4-5 green chillies (paste)
1 lemon juice
2tsp salt
Fresh coriander leaves for garnish
Method:
To make Muthias first mix besan, methi leaves, salt and chilli powder and make a smooth dough with water.
Make small round balls and steam-cook them in a steamer.
Then fry them in oil and keep them aside.Peel bananas, yam and cut them into pieces.
Slit beans, potatoes and brinjals. Soak the groundnuts in water and remove the skin.
Add grated coconut, salt, lemon juice, sugar into green chilli and ginger paste.
Smear some paste mixture on yam and other vegetables that cannot be stuffed.
Stuff the rest of paste in the brinjals and potatoes.
Heat oil in a heavy pan, add thymol seeds, asafoetida and add the cubed tomatoes and fry for 2minutes and put the rest of the spices and fry the paste for another 3 minutes.
Now add all vegetables and toss well. Simmer on low flame with lid covered. When the vegetables were nearly cooked then add the fried Muthias and cover for 5 minutes.
Garnish and serve.
OONDHIYA – 2
Ingredients Recipe

Recipe

100 gm Potatoes

 


100 gm Papdi (Sem) Flat beans

 


100 gm Peas

 


100 gm Brinjals (small)

 


2 Bananas

 


2 Sweet Potatoes

 


1/2 Coconut (grated)

 


1 Kand (small)

 


1 tsp Ginger paste

 


1 tsp Green chilli paste

 


1/2 tsp Chilli powder

 


3 tsp Coriander powder

 


1/2 tsp Tumeric Powder

 


1 1/2 tsp Sugar

 


6 tsp Oil

 


1 Asafoetida (pinch)

 


1 tsp Ajwain or Oregano

 


1/2 tsp Soda bi-carbonate
Salt to taste

FOR OONDHIYA
Heat 6 tbsp oil in a pan. Add Ajwain and Asafoetida. Add Soda bi-carbonate. Put in all the vegetables. Add all the masalas to the grated coconut and add to the vegetables. Add salt and Muthiyas. Cook. Sprinkle lime juice and garnished coriander. Serve hot.

FOR MUTHIAS:
1 cup Gram flour

 


2 cups Methi or Fenugreek leaves

 


1/2 tsp Ginger paste

 


1/2 tsp Green chilli paste

 


1/4 tsp Chilli Powder

 


1/2 tsp Corainder powder

 


1/4 tsp Tumeric Powder

 


1 tbsp Curds

 


1/2 tsp Sugar

 


1 tbsp Oil

 

FOR MUTHIAS
Mix the gram flour with Methi leaves and masala and curd and oil. Add very little water and make a stiff dough. Make small sausages and deep fry. Keep aside..
PATRA
Ingredients Recipe

Recipe

12 Arvi leaves – colacacia leaves

 


1 1/2 cups Gram flour

 


1/2 tsp Tumeric Powder

 


1 tsp Coriander

 


1 tsp Cumin powder

 


1 Onion grated (optional)

 


1 tsp Chilli, ginger paste

 


1 cup Methi leaves

 


2 tbsp Sesame seeds (Til) roasted
2 tsp Sugar

 


2 tbsp Lime juice

 


1 cup Coriander (fresh) chopped

 


1 tsp Coconut grated
1 tsp Mustard seeds

 


Salt to taste

 


Oil to fry
Wash the seeds, remove the stems. Make a batter with gram flour and all the ingredients except Mustard seeds. Divide into 12 portions in the wrong side of the leaf. Spread one portion of the mixture and cover with the right side of the leaf. Make a stack with 6 leaves, similarly make another stack of 6 leaves. Roll each stack tightly and make a roll. Tie with a thread and steam well. Remove thread and slice into 8-9 pieces. Heat 2 tbsp oil in a pan and add Mustard seeds. Add the sliced Patra. Saute lightly and remove. Serve with Chutney.
CHICKEN KABAB
Ingredients Recipe

Recipe

400 gm Boneless Chicken
2 beaten Eggs
1 tbsp Curds
1 tsp Butter
Ghee for frying
Salt to taste
GRIND TOGETHER
Whole pepper 6
Cumin seeds 1 tsp
Garam masala 1 tsp
Almonds 1 tsp
Mix Chicken Kheema with masala, salt, butter and curds. Mix well and form small balls. Dip in beaten eggs and fry in hot ghee. Serve with green chutney.