JANMASHTAMI – 12TH AUGUST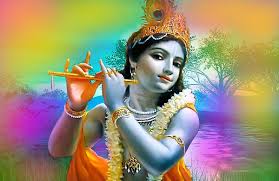 Janmashtami, Lord Vishnu, in human incarnation as Krishna, is worshipped. This signifies his birth anniversary. Krishna was the eighth Avatar or incarnation of Vishnu. The day is called Janmashtami since it falls eight days after the full moon in shravan. Krishna was born in Mathura. The legend associated goes like this- the demon king Kansa, a tyrant, loved his sister Devaki, but predictions by an oracle said that the eighth child of Devaki would cause Kansa's death. Fearing this, every child born to Devaki and Vasudeva was given to Kansa. He would kill them eventually. Vasudeva took the eighth child out of the prison and brought the child to the house of Nanda and Yashoda of Gokula. He exchanged the new born with a girl child, born to Yashoda. Miraculously, Kansa could not harm the divine girl child.
The temples of Vrindavan experience colourful celebration on this day. Raslila is performed to revive the incidents from the life of Krishna, to venerate his love for Radha. The idol of infant Krishna is placed in a cradle and rocked. In Northern India people sing devotional songs and dance. In Gokula and Mathura, this festival is celebrated with greatest possible religious fervour and enthusiasm. In Maharashtra, on Janmashtami, high-spirited plays on the god's childhood are an event to be seen. These show young Krishna's efforts to steal butter and curd from earthen pots that were beyond a child's reach. Krishna' s childhood pranks are depicted in most places. A pot (called matki) containing butter is suspended high above the ground and groups of young men and children form human pyramids and reach the pot. Finally, the pot is broken. It is believed that the birth of Krishna symbolizes the destruction of the evil and establishes Dharma. The piety and fast observed on this day ensures the birth of good progeny and salvation after death.