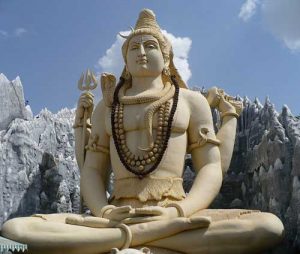 Maha Shivratri is celebrated on the 14th night of the new moon, in the dark half of the month of Phalguna. The moonless night in February every year is the night of Shiva, the destroyer. It is believed that on this night, he performed the Tandava – the dance of primordial creation, preservation and destruction.
Devotees observe fast during the day and maintain an extensive vigil in the night. In the temples of the country, people ring bells; chant sacred texts and traditional offerings of leaves and milk are made to the Shiv lingam. Shiv lingam is the phallic symbol of the god.
There is a tale in relation to Shiva's phallic form. It is believed that once Brahma and Vishnu, the two pillars of the holy Trinity were having an argument as to who was supreme. Brahma declared to be the Creator of all and thus more revered. Vishnu claimed that being the Creator and the Destroyer, he commanded more respect. The argument continued.Subsequently a huge lingam blazing with flames appeared. Both the gods were overwhelmed by its continuously growing size; they failed to remember their quarrel and decided to determine its size. Vishnu assumed the form of a boar and set off to the rearmost part of the world while Brahma in the form of a swan ascended to the skies. Neither of them could ascertain the size.
At that moment, Shiva appeared out of the lingam and declared that he was the Creator, Preserver and the Destroyer. He demanded that thereafter he ought to be worshipped in his phallic form, the lingam.On the day of Shivratri, the lingam is bathed with the five sacred offerings of a cow; called the panchagavya – milk, sour milk, urine, butter and dung. Shortly after, the five foods of immortality – milk, clarified butter, curd, honey and sugar – are placed before the lingam. Dhatura and jati, though poisonous fruits, are believed to be sacred to Shiva and thus offered to the temple. The number eleven is considered to be the sacred number of the Lord. Devotees keep a fast (vrat) on Shivratri and observe strict rules, for vardan (boon).
Special celebrations are held at important Shiva temples at Chidambaram, Kalahasi, Khajuraho and Varanasi. Lord Shiva is honoured, to release the devotee from the cycle of birth and rebirth. In Kashmir, the festival is held for 15 days; the thirteenth day is observed as Herath, a day of fast followed by a family feast.