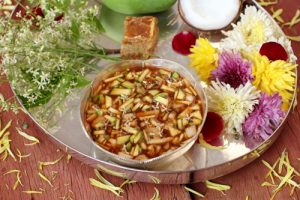 The deep colors of Holi start fading away, but the freshness of spring lingers on. Trees blossom with bright red flowers, signifying a prosperous time of the year. Indicating a new-fangled life, the New year festival of Ugadi follows Holi.

The belief is that, the creator of the Hindu pantheon, Lord Brahma started creation on this day – Chaitra suddha padhyami or the Ugadi day. Besides, the great Indian Mathematician Bhaskaracharya's calculations emphasize the Ugadi day from the sunrise on, as the beginning of the New Year, New month and New day. The onset of spring also marks a beginning of new life with plants (barren until then) -acquiring a new life. Spring is considered as a new start, being the first season of the year. The verve of the time and lush fields, bursting with colorful blossoms signify growth and prosperity

With Ugadi approaching, the fragrant jasmines (mallepu) spread a sweet scent. As garlands of jasmine are offered to Gods in homes and temples, jasmine a flower woven in bunches beautifies the braids of women.

PREDICTIONS FOR THE YEAR
Ugadi indicates the beginning of the new Hindu lunar calendar with a change in the moon's orbit. On this day, mantras are chanted and predictions are made for the New Year. Conventionally, the panchangasravanam or listening to the yearly calendar was done in temples. In an era of sophisticated technology, it can be accessed through computers.

This season has a characteristic fragrance in the air; fully blossomed neem trees make the air healthy. Jaggery made with the fresh crop of sugarcane adds a new essence to the dishes associated with Ugadi.

Ugadi pachchadi" is the delectable dish associated with Ugadi. It is made of new jaggery, raw mango pieces and neem flowers and new tamarind, which truly reflect life – a combination of sweet, sour and bitter tastes!

Ugadi is celebrated with festive enthusiasm in Maharashtra, Karnataka and Andhra Pradesh.
While it is called Ugadi in Andhra Pradesh and Karnataka, in Maharashtra it is known as "Gudipadava".