Raj Nidimoru and Krishna DK, popularly known as Raj and DK, started their career in Bollywood with the acclaimed and quirky 99 (2009). They followed it up with another wacky film, Shor In The City (2011), zombie comedy Go Goa Gone (2013) and then a romcom, Happy Ending (2014). After Happy Ending, they were supposed to make Farzi, with Shahid Kapoor and Nawazuddin Siddiqui. In an exclusive interview with Bollywood Hungama in November 2014, Raj and DK had even said that "Farzi is like Shor In The City on steroids".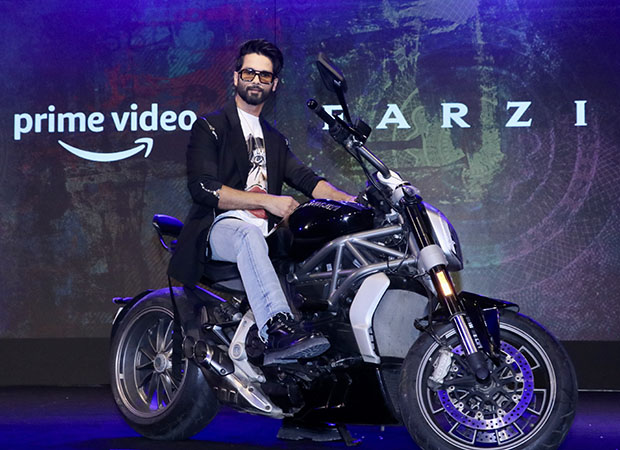 Almost 9 years later, in the present day, Raj and DK are all set to release Farzi. But now, it has turned into a web series. While Shahid Kapoor has been retained, Vijay Sethupathi has stepped in. At the trailer launch of Farzi today, Raj Nidimoru, Krishna DK and Shahid Kapoor explained why Farzi was turned into a web series.
Krishna DK said, "Raj, I and writers Sita Menon and Suman Kumar had conceived the idea of Farzi some eight years ago. It was supposed to be a feature film. And finally, it saw the light of day a couple of years back when we decided to make it into a series. It's been a long journey from where it started to this day."
Shahid Kapoor elaborated, "We started talking about the show even before the film fraternity started getting onto OTT. This is because I love their shows. I loved The Family Man 1 and 2. They (Raj and DK) called me to offer a film. I asked 'Film toh theek hai. OTT mein kya kar rahe ho?'. They asked me, 'Are you serious or are you joking?'. I said 'Absolutely I would love to do a show'. They narrated an idea that strangely eight years back, we had discussed with each other as a movie (idea). At that time (we couldn't do it) as it was too big in terms of the length of the story or to fit into a single film. The best thing that happened to Farzi is that it didn't become a movie as I don't think we would have been able to do justice to it. We have the first season which is equal to 2 ½ movies. If people like it, we can make another 2 ½ movies and another 2 ½ movies."
Farzi will premiere on Amazon Prime Video on February 10. Regarding the streaming giant, Shahid Kapoor raised laughs as he remarked, "I had an amazing time with them. Their contracts are scary but as people, they are amazing!"
Also Read: Yodha: Raashii Khanna opens about being a 'Dharma heroine'; says, "I wanted to look pretty and be part of a glossy film"