Poisonous Snakes of India
Indian (Spectacled) Cobra – Naja naja naja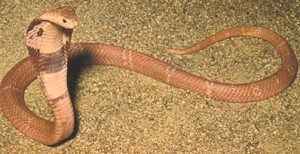 Distinctive Features: Medium-sized to large; smooth, shiny scales; wide head and neck; wide black band on underside of neck; distinctive hood marking on top of neck.
Description: The Spectacled Cobra is a smooth-scaled snake with black eyes, wide neck and head and medium body. Colouring varies form black or dark brown to yellowish white. The underside is usually white or yellowish with a wide dark neck band. The body is generally covered with a speckled white or yellow pattern, sometimes forming ragged bands. The famous hood marking of the classic design, shows a connected pair of rings. Occasionally, it may not even resemble spectacles, or may be altogether absent. The cobras of northwest India are blackish and have a barely distinguishable hood marking. Cobras are often confused with the Indian rat snakes, which have a much thinner neck and head, and become 3 metres long, a metre more than do the biggest Indian cobras.
The Spectacled Cobra is the most widely distributed of the generally accepted 3 sub -species of cobras in Indian and is one of the big four dangerous snakes, 6 species of cobras occur in Asia and 9 in Africa. The jet black cobras occur in Asia and 9 in Africa. The jet black cobra of northwest India and Pakistan is another sub-species or geographic race. Except for its colour and absence of hood marking, it is very similar to the spectacled Cobra.
Distribution: Throughout India, sea level upto 4000 m (in the Himalayas)