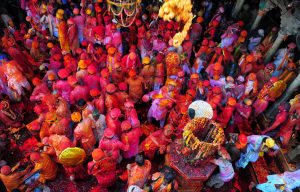 Holi is celebrated in springtime in India; typically characterized by the blooming of the flowers. The fields appear green, signifying prosperity. People celebrate the festival by smearing colour on each other.Celebrated on the day after the full moon in the month of March, Holi is a spring festival meant to celebrate good harvests. It also denotes fertility of the land. Holi is celebrated with particular eclat in the villages around Mathura, the birthplace of Krishna. Various legends are associated with Holi Popular one being about Prince Prahlad, the god-fearing son of the wicked King Hiranyakasipu. Young Prahlad did not renounce worshipping Lord Vishnu much against his father and demon aunt Holika- She was deputed to kill Prahlad.
Holika, immune to death by fire, took Prahlad and entered a scorching furnace built for his death. Holika was burnt to ashes by divine intervention, and Prahlad came out unharmed.

Holika realized her misdeed and begged for mercy. As a gesture of forgiveness, her name is remembered once in a year on the occasion of Holi.
It pays a tribute to this event from mythology; the burning of huge bonfires symbolically represents Holi.This lively festival is also associated with the immortal love of Krishna and Radha.
Young Krishna would complain to his mother Yashoda of his dark complexion in comparison to Radha's fair skin. It is believed that Yashoda advised him to apply colour on Radha's face and see the complexion change in her.
The spirit of Holi remains unaltered. Evergreen the splatter of colours has seen so much in history and will go on to see the future of this country.
On Holi day, people consume bhang in the form of Laddoos and ghols. The whole festival is incredibly sporty- it includes squirting colours on people and dunking them beyond recognition, in mud pools.
Apart from the fun with coloured powder and water, Holi is marked by vibrant processions, accompanied by folk songs, dances and a general sense of vitality.