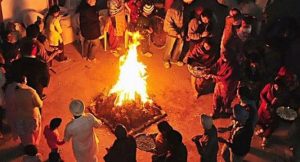 Lohri symbolizes the end of winter; it is celebrated on the 13th day of January in the month of Paush or Magh, a day before Makar Sankranti. In Punjab it is a gala time, a social event that is beyond conventional celebration. Lohri celebrates the richness of life.

People gather round the bonfires, throw sweets, puffed rice & popcorn into flames. They sing popular songs and exchange greetings. Lohri, an auspicious day, marks the sun's entry in to the 'Makar Rashi' (northern hemisphere). The period, beginning from 14 January lasting till 14 July, is known as Uttarayan. It is also the last day of the month of Maargazhi, the ninth month of the lunar calendar. The Bhagawad Gita considers it as a particularly auspicious time; when Lord Krishna manifests himself evidently.

In India, people rejoice, for the remarkable harvest the festival brings – Pongal in Tamil Nadu, Bihu in Assam, Bhogi in Andhra Pradesh and the Sankranti in Karnataka, Bihar and Uttar Pradesh.

The focal point of Lohri is the bonfire. The traditional dinner with makke ki roti and sarson ka saag is scrumptious.

The prasad comprises of five main things: til, gazak, gur, moongphali, phuliya and popcorn. There is puja, involving parikrama around the fire and distribution of prasad. This symbolizes a prayer to Agni, the spark of life, for plentiful crops and prosperity.

Lohri pampers women and children. The first Lohri of a bride is considered very important. The first Lohri of a newborn baby is also significant. Children go from door to door singing and asking for the Lohri prasad.