Kamal Hassan is to Indian cinema, what stocky Tendulkar is to Indian cricket.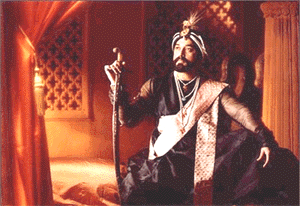 Actor's actor, Kamal Hassan is to Indian cinema, what stocky Tendulkar is to Indian cricket. Kamal walks tall like a colossus in Indian cinema among the pigmies galore. Like the little Tendulkar with a broad bat, who is perpetually ton-hungry, this actor has pretty much good scoring on the film front. No hyperbole, if the film buffs call him the second Sivaji Ganesan. Easily he is the next best thing that happened to Tamil cinema after Sivaji Ganesan. He is widely known and loved by the film buffs spread across the country. The veteran of Indian cinema was born in 1954 in an eventless town called Paramakkudi in Ramanathapuram District to an orthodox brahmin couple, Mr. Srinivasan and Mrs. Rajalakshmi. His father took an active part in the freedom movement, all the while practicing law. Kamal Hassan is the youngest of the Hassan brothers, Chaaru and Chandru being the other two.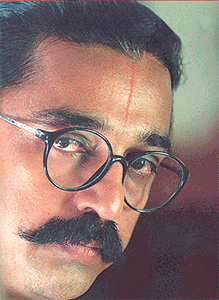 Fortune's wheel swung in his favour and resultantly director Trilokachander handpicked him and cast him as a child artist in "Kalathoor Kannamma" in the year 1960. That his father and brothers were trained lawyers did not make him budge and pursue studies. Kamal dropped out of school. He took no interest in bookish knowledge. Instead he pursued classical dancing, theatre and films. Theatre has always proved a training ground for the furtherance of his histrionic skills. He found himself under the tutelage of "Avvai Shanmugam" for a while. After joining the stage his career was shaped as an artist with different dimensions – a dancer, assistant director, dance director and storywriter. It was in 1973 that he was introduced by director Balachandar, as a hero in his film "Arangetram". This was his first film as a hero and today he has got a count of 175 movies to his credit.
Chameleon Kamal had played a variety of roles ranging from a ventriloquist in "Avargal" to a rebel who falls in love with an older woman in "Apoorva Raagangal", co-starring with Rajinikanth. He was in the danger of being typecast in character roles of a rebellious image, but director G.N. Rangarajan realized the actor's star potential and sought to cast him as a commercial hero. Kamal initially disagreed, but later gave in, realizing this was the way to superstardom, fame and fortune, after which he could really make films that he enjoyed. A string of hits followed with "Guru", "Sattam En Kayil", "Ellam Inba Mayam".
Biggie Bharathiraja, who made his directorial debut in "16 Vaiadhinile" catapulted himself, fledgling actor Kamal into super-stardom. Haunting music of Illayaraja also helped the firebrand Bharathiraja to register his victory.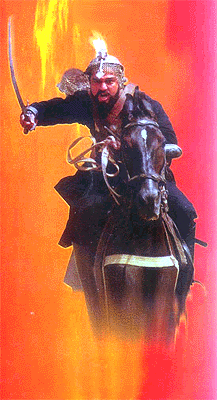 Another of Bharathiraja's movie "Sigappu Rojakkal" enhanced Kamal's image at the box-office and showed he wasn't apprehensive to play a negative role at the cost of success, since his character was portrayed as a deranged psychotic killer, who killed women. He gave life to the role of a sexually abused man during childhood and who also witnessed his mother suffer injustice at his father's hand. These were powerful roles he played that established his acting prowess.
The banner of pride and privilege, A.V.M, decided to recast him as an action hero in "Sagalakala Vallavan". It was the biggest grosser of the early eighties. Kamal had become the darling of the film goers, and a sex-symbol with an army of college girls drooling over him. His other phenomenal box office success around the same time was "Kalyanaraman". He played a village bumpkin in the film.
Kamal, now and then, made brief forays into the world of Telugu, Kannada and Malayalam cinema. But one of the biggest grossing films of all times in Indian cinema, which marked his debut in Hindi, was "Ek Duje Ke Liye ", directed by K.Balachander. The film was a remake of his Telugu hit "Marocharitra". "Moonram Pirai" directed by Balu Mahendra, won him his first National award. "Sagara Sangamam" in Telugu was a box-office success where he displayed his Bharathanatyam skills. This was an era that saw Kamal in a wide variety of roles. Every character that he played during this time was unique and Kamal slowly came to realise his potential and rolled up his sleeves for further adventure.
"Punnagai Mannan" followed, where he imitated the great tramp Chaplin. He also started his own production company with "Vikram" and has been quite successful as a producer too ("Apoorva Sagodarargal","Devar Magan"). Then came "Nayagan", a movie that changed the course of Tamil cinema, the story of a famous underworld don of Bombay, Vardaraja Mudaliar. "Nayagan" is a landmark in Indian cinema, and changed Kamal's image completely.
People now wanted to see him in various guises and masks and it became a journey of experiments for Kamal. He became the Lon Chancey of Tamil cinema. He played a dwarf in "Apoorva Sagodarargal", a Mayor in "Indiran Chandiran", a deranged obsessive lover in "Guna" and essayed four different roles in the comedy "Michael Madana Kama Rajan". A truly talented actor, he put his efforts towards screenplay, editing, and scripting.
Next is his best. He is all set to make an epic "Maruda Nayagan", and has been working on a script for two years. It's a costume drama, set in the time of the British Raj. It's been his dream project. He also wishes to make a serial of a Tamil epic story called "Ponniyin Selvan" for TV, since his efforts to film it with Mani Rathnam at the helm did not materialize. But he ditched the Tamil fans when the role of 'Bharathi' was offered to him on a platter. He refused to sign the film citing lame excuses.
He is married to Sarika, who is an erstwhile actress of Bollywood. Kamal is charitable and a socially conscious actor. In 1989 he started a social welfare movement called 'Kamal Hassan Narpani Iyyakkam', a nonpolitical movement, which organises medical camps for tribal people, donates blood and eye, conducts seminars on national integration of various villages, schools and colleges. This movement has so far donated more than 10,000 pairs of eyes. Well, hats off to Kamal Hassan and his charity.
Compiled by U. Bharat.