Rajnikanth: The man for all seasons has got a magical wand in his hands!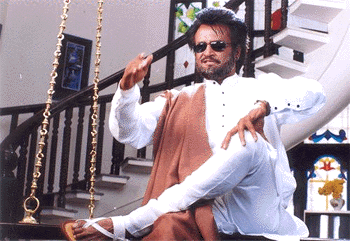 The stylish super-star of the south, Rajnikanth was born as Shivaji Rao Gaekwad on December 12, 1949 in Karnataka. After growing over the problematic, wayward adolescent years he found himself a job as a bus conductor in Bangalore. Not happy, leading a life of a drudge, he looked elsewhere for greener pastures. After appearing on stage for two amateur performances, he convinced himself to buy a ticket to the then Madras and to stardom in films. Interesting to learn that he even as a bus conductor had a fan following consisting of the commuters. The way he stroked his wind ruffled hair, his quick fire method of issuing tickets and his other mannerisms caught the fancy of the travellers. He migrated to Madras and started taking acting lessons in South Indian Film Chamber of Commerce. It was here that he ran into K. Balachander, a director, who loves experimenting with raw hands in his films. Balachander cast the shaggy haired Shivaji Rao as a good-for-nothing husband of Srividya in 'Apoorva Raagangal'. Rajnikanth soon graduated to playing villain roles; be it the sadistic husband of Sujatha in 'Avargal' or the wolf in sheep's clothing in 'Moondru Mudichu' or the lust-filled village rowdy in Bharathiraja's '16 Vayadhinile', Rajnikanth was the villain the people loved to hate. From here, it was a cakewalk for Rajni, playing the anti-hero and finally, the hero in 'Bhairavi'.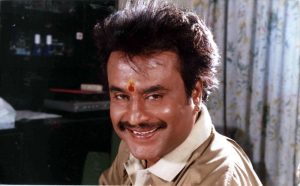 Rajnikanth firmly grabbed the vacant, action-hero slot in Tamil movies and gave it a new meaning with a series of stunt movies wherein he routinely bashed up the baddies. As a breather he did act in some meaningful scripts like "Mullum Malarum" "Aval Appadithan" and "Buvana Oru Kelvikuri". But the fans had already branded him as a firebrand action-hero and he had to stick to his image. Director Rajasekhar for a change dared to tap the comedy potential, which was lying dormant in Rajnikanth. He gave us the breezy 'Thambikku Endha Ooru', which saw Rajni balance the action and the comedy sequences with equal ease. The scene where he reads a soft-porn book while a snake enters his room is one to remember forever. The film went on to become a huge blockbuster and the path of Rajni's future movies was laid. Rajnikanth had honed his action-comedy hero skills with a series of movies like 'Nallavanukku Nallavan', 'Pokkiri Raja', 'Murattu Kaalai' with S.P.Muthuraman. All these were mega-hits and consolidated his status as the number one crowd puller in Tamil movies. There was a brief lull when the much-hyped 'Maaveeran', his own production, flopped at the box-office. But then came 'Padikkadhaavan', one of his biggest hits and there was no looking back after that. For his next production 'Valli', he gave all major responsibilities, including direction, to newcomers while playing a cameo role himself. The movie was received well both critically and commercially.
Annamalai's dialogues were seen by many as Rajnikanth's direct dig to the then Chief Minister J. Jayalalitha and his fans thought he subtly hinted about his planned entry into politics. But nothing of that sort happened. Rajnikanth frequently denied any such intentions but the political overtones in his dialogues in movies like 'Uzhaippaali' and 'Yejamaan' did nothing to quell the rumours. As the elections neared, he directly came out against the CM, thundering that his only goal was to see her removed from office. He played a major part in putting together an alliance between the DMK and TMC, leading to, in no small part, their landslide victory in the last assembly polls. He preferred to be a kingmaker rather than a king! Later that year, he received the State award for best actor for his great performance as father and son in 'Muthu', arguably, his biggest hit to date. His latest movie "Padayappa" is a chart-buster and a money-spinner.
Compiled by U. Bharat.