Sarath Kumar came, saw and conquered the  Tamil hearts.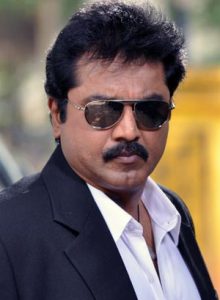 Brawny Sarath Kumar, lovingly called as "Supreme Star", has come to stay as an actor who appeals to the imagination of the urban and the rural film buffs alike. His career graph peaked phenomenally with super duper hits like "Nattamai" and "Suryavamsam". If he has seen the flow of his career the ebb also followed with he accepting and acting in mediocre films.
Sarath was born in Delhi, his traditional village being 'Thalakkavoor', which nestles near Karaikkudi, in south Tamilnadu. His father M. Ramanathan had worked for All India Radio and then in Press Trust of India (P.T.I.).
Ramanathan practiced law prior to his switch over to journalism. Sarath was the third son of Ramanathan-Leelavathy couple. After completing his bachelors in Maths in New College, Chennai, Sarath started dreaming about his imminent entry into films. He started his film career as a producer. With actor Karthik as the hero, he plunged into the production of "Kan Simittum Neram" and "Mister Karthik". He put up a brief appearance as a police officer in "Kan Simittum Neram". But before all that, the actor, thirsting to make an impact, ran from pillar to post to get a foothold in films. But his efforts bore no fruits. Tenacious by nature, he didn't budge and never retrieved a step from achieving his avowed goals, set in cinema.
Struggling and sustaining over a period of time, Sarath got his tryst with destiny. In the climax scene of "Pulan Visaaranai", he clashed with Vijayakanth, exhibiting his enviable biceps. " Who is this handsome, macho man?' exclaimed the audience. It is rumoured that when Sarath Kumar and Vijayakanth were actually doing this scene both indulged in exchanging real blows, in order to give the scene a real feel. The scene was well-conceived and well shot by Selvamani and it gave a grand finale to a well-scripted film. At last, Sarath the actor has arrived.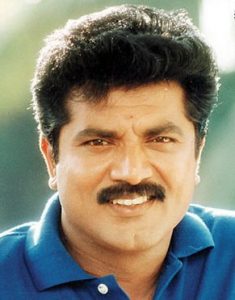 Next, came "Suryan". In this Sarath appeared with tonsured head. He had sacrificed his shack of hair for the role. The film set the box-office on fire and Sarath turned into a dependable actor. Films such as "Kattabomman", "Cheran Pandian" and "Naattaamai" made him a darling of the women. The chart-busting "Suryavamsam" that came to screen in 1997, broke all the records in box-office collections throughout Tamilnadu.
Sarath Kumar has so far completed 75 films. He appears as a gold hearted, altruistic gentleman in most of his films. He practices charity in real life too. Through a trust founded in the memory of his father, he extends help in the areas of medi-care and education. He has also associated himself in sports promotion.
The benevolent actor built a hospital, with modern amenities, in Coimbatore to serve our fellow impoverished citizens.
Sarath Kumar came, saw and conquered. His nervous energy took him to heights in a very brief period. It is his fan's heartfelt wish that he shouldn't meddle in muddy politics and spoil his film career. Devoting time to hand picked good scripts like "Sooryavamsam" would certainly take him again to the top.
Compiled by U. Bharat.