Shankar's prime weapon is his script writing skill.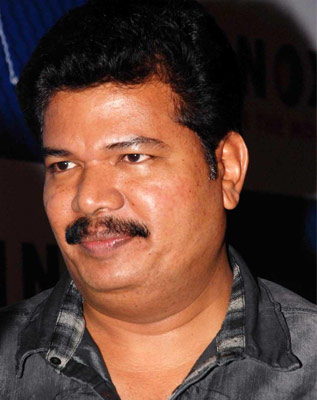 In an industry, which is very difficult even to enter, it took Shankar just one movie to rise to the top. Introduced in producer K.T. Kunjumon's "Gentleman" as Director in 1994, Shankar has so far directed just five movies in Tamil and one in Hindi. Yet, he is the most successful director in Kollywood today!
When Shankar approached K.T. Kunjumon for a chance to direct a movie, the burly producer immediately gave his approval, as he was in the habit of introducing new directors to the industry at that time. Utilizing the opportunity and determined to create a smash hit, Shankar began working hard on the script of "Gentleman". He worked on the minute details of his first movie and employed the genius of the emerging A.R. Rahman (who had just made three movies until then) and cinematographer Jeeva. Arjun featured in the lead role. "Gentleman" turned out to be a mega hit at the box office. With fantastic songs, thrilling action sequences and a daring script, "Gentleman" became a trendsetter for the movies of the 90's.
Unlike other commercial moviemakers, Shankar took his time to venture into his next movie. Backed once again by K.T. Kunjumon, he made "Kaadalan" introducing Prabhu Deva as hero for the first time. Naghma made her debut in Tamil in this film. Supported immensely by A.R. Rahman's incredible musical score once again and K.T. Kunjumon's lavishness in the production, "Kaadalan" too turned out to be a mega hit. Shankar's name entered the 'Top Directors' list.
Shankar's next project was A.M. Rathnam's "Indian", featuring "Padmashri" Kamal Hassan (in a dual role), Manisha Koirala and Urmila Matondkar. "Indian" was a sensational hit and was dubbed into Telugu and Hindi. Shankar got recognized all over the country, for his stunning script writing.
After three successful movies, Shankar started his next project, the Anand Amritraj and Dr. Murali Manohar production, "Jeans" featuring Prashant and Aishwarya Rai. The film was a mega budget one with extensive graphical extravaganza. Computer graphics was incorporated almost throughout the film for special visual effect of the dual roles, played not only by Prashant but also by the supporting artist Nazer and heroine Aishwarya Rai. Although the movie did well, thanks once again to Rahman's magnetic music, it wasn't really up to Shankar's standards.
After "Jeans", Shankar wanted to make his next movie really striking. He decided to produce it under his own banner "S Films" along with his friend Madhesh. 'What would you do if you were made the Chief Minister for one day?' This was the theme of his "Mudhalvan". For such a daring script, the one person he wanted to play the lead role was 'Superstar' Rajinikanth. However, due to Rajinikanth's hesitancy, Shankar cast Arjun in the film. "Mudhalvan" turned out to be a super hit and a spectacular delight to the audience with the story moving faster than a bullet! Shankar remade the movie in Hindi as "Nayak" featuring Anil Kapoor.
His next project has been titled "Robot" with Kamal Hassan. He has maintained complete secrecy about "Robot", but the title suggests that it may well be a science fiction!
Shankar's prime weapon is his skill in writing the script and the screenplay of the movie. Such deftness in script writing is unprecedented in Indian Film History. Moving the movie scene by scene with incredible speed is Shankar's speciality.