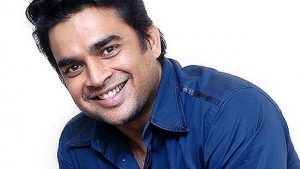 Madhavan has in him, the charm that will always put others at ease. It is this charm of the boyish "Maddy" that makes him the most loved hero in Tamil cinema today. It was Manirathnam's super hit "Alaipayuthey" that gave him a break in Tamil cinema. With the release of every new movie of his, more and more fans are falling in love with this talented Madhavan who today rules over the hearts of the young and the old alike.
Born to Tamil parents on 1st June 1970, Madhavan was brought up in Jamshedpur. As a child, Madhavan had no particular affinity towards movies. An electronics graduate from Shivaji University, Kolapur, he was selected by the Rotary International, to represent India as a Cultural Ambassador to Canada, when he was just 18! It is this tour to Canada that Madhavan considers as one of the important events of his life! After his tour to Canada, Madhavan was looking for a chance that would take him back to Canada. Realizing that the best NCC Cadets would be sent abroad, Madhavan enrolled in the NCC and emerged as the "Maharashtra Best Cadet" which took him to another trip abroad…to England, where he had training with the Royal Army, Navy and the Air Force.
Madhavan now decided that it was time for him to start making money. He learnt that one of the quickest ways to earn good money was to start a ten-day crash course on Public Speaking. His course was a super success and Madhavan soon turned out be one of the richest guys in college. It was in one of these classes that Maddy met his wife Sarita.
When one of his friends suggested Madhavan to try his hand on small screen, Maddy decided to give it a shot and visited Zee TV. He was instantly offered a role as a convict in "Yule Love Stories". He was quickly spotted by the leading small screen producers and in a very short time, he bagged various roles — a captain in "Sea Hawks", a convict in "Yeh Kahan Aa Gaye Hum", an anchor in "Tol Mol" and a role in "A Mouthful Of Sky"! The first role that Madhavan got to play was the character of Ashley in "Banegi Apni Baat". "That role was initially an incidental character, only for an episode or two but pleased with my performance, the directors decided to make this character a regular feature. It is almost four years now and I am still in the serial and a regular at that." The element of pride, however tiny, flashes across his face.
During one of his Hindi serial shoots, Madhavan got acquainted with Santosh Sivan, Mani Ratnam's close associate and cinematographer, and after two years of calling Mani Ratnam, he was finally summoned and offered the lead role in "Alaipayuthey"! With the release of "Alaipayuthey", Madhavan has risen to absolute stardom. And with the coming of the recent super hit "Minnale", he is being called the "Hrithik of Tamil Movie Industry"!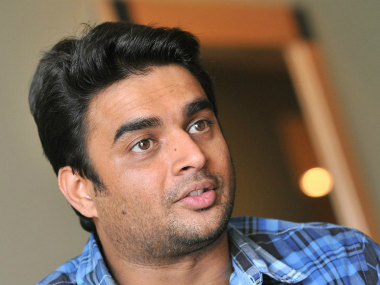 Madhavan makes his debut as a hero in Hindi movies in "Rehna Hai Terre Dil Mein", the Hindi remake of "Minnale". Apart from starring in K. Balachander's "Paarthaaley Paravasam", his forthcoming movies include Mani Ratnam's "Manjal Kudai", in addition to "Dil Vil Pyaar Vyaar" and "Accham Thavir"!
The 5'11" actor's favourite actors are Robert De Niro, Robin Williams, Al Pacino, Sanjeev Kumar, Kamal Hassan and Rajnikanth, and favourite actresses include Manorama, Whoopi Goldberg and Helen Hunt. His philosophy in life is "Live life to the fullest and relish every moment of existence". He loves "Pani Poori" and "Curd Rice".
Madhavan wants to do a role that is as real as possible as in "Cast Away", in which a man has lost 30Kg for the sake of a film and genuinely portrayed the plight of the character. "To concentrate on one film and give as realistic a performance as possible is my dream. Unfortunately, in India, while making a film, we have to put in all the 'safety plugs' like song sequences and things I would ideally not be associated with, " he says.