Every major actor and actress today has dedicated fan clubs. But SRK Universe stands out. The manner in which its members passionately celebrate Shah Rukh Khan and his movies are seen to be believed and even quite heartening. With SRK returning on the big screen after more than four years with Pathaan, the excitement among the fans is palpable. And they have some very grand plans to celebrate Pathaan's release with fanfare.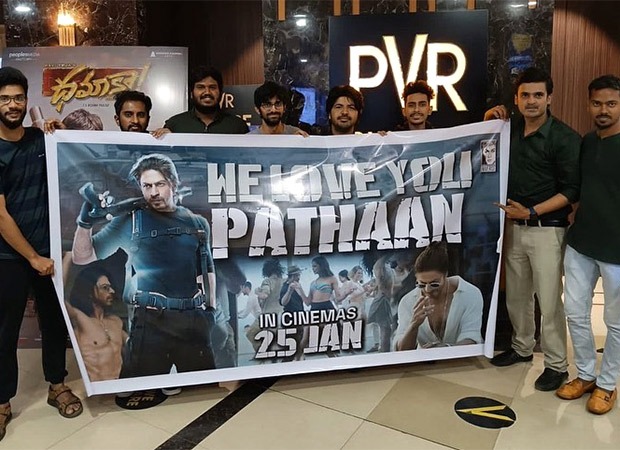 Bollywood Hungama exclusively spoke to Yash Paryani, the co-founder of SRK Universe about these plans. Currently, in Bengaluru, Yash started by stating how the listings of fan screenings managed to get mentioned on the popular ticketing app, Book My Show. He said, "This is the first Hindi movie ever to be listed for fan screenings on Book My Show. Even before the actual advance will commence, our shows will be full."
View this post on Instagram
Yash Paryani continued, "Right now, our shows will take place in 200+ cities. At least 500 shows have been planned. As we speak, more cities and shows are being added. In Mumbai and Delhi, we'll have over 6 first day first show fan screenings each. Kolkata has 4 screenings. Our shows will start before the usual show timings. In short, we hope to have our show at 7:00 or 8:00 am. So before 9:00 or 10:00 am, we'll hopefully be crossing collections worth Rs. 1 crore+ just from our shows!"
The demand for these fan shows of Pathaan has been incredible. Yash revealed, "A lot of shows are already sold out. In Mumbai, we plan to have 3 more shows given the push we have and the demand generated. In Delhi, there were 5 shows and just 2 days back, one more show was added."
What's lovely is that Shah Rukh Khan is aware of these efforts of SRK Universe and even interacts with them. Yash Paryani revealed, "SRK was in Delhi where he met our team. Our Delhi-NCR admin, Siddharth Gupta, was quite unwell and he couldn't meet him as it was quite late at night when the members had gone to see him. But since he works so hard, I wanted him to meet Shah Rukh sir. And we managed to do that and got him to meet SRK at the airport. Siddharth told him about the screenings and that many shows are already sold out. SRK was very happy on hearing that. He also asked him about the feedback on Pathaan's trailer."
SRK Universe members are not just going to arrange for Pathaan's shows. They are also going to celebrate the release in a grand manner. Yash Paryani opened up, "During Zero (2018), the character of Bauaa was just 4 feet long. So we made a cut-out of Bauua that was 60 feet long. It was installed at IMAX Wadala in Mumbai. This time, in theatres across the country, we are going to put up 100 feet plus cut-outs of Shah Rukh Khan. We are still figuring out which theatres will have these cut-outs but the idea is clear - We want to celebrate Pathaan's release like a festival and the way the fans do for their idols down South. We want to bring the same style to Bollywood with this film."
Aged 26, Yash Paryani also has a day job and juggles both works effectively. He said, "I head marketing at a gaming company. It is difficult, to be honest. It's a lot of work managing to get shows, do payments, manage socials etc. Somehow I am managing to do both. I usually work on all this after office hours. It's crazy and it takes a toll as well. We have a team of 5-6 people, who are quite helpful and hard-working. But during the release or his birthday, I need at least 100 hands as there are too many inquiries and calls."
Yash Paryani also added that it's the fans who have made contributions to these celebrations. Talking further, he said, "There'll be T-Shirts and other merchandise as well. Also, since Pathaan is first Indian film to be shot in IMAX format and releasing in IMAX, we are planning to do shows in IMAX theatres pan-India as it'll make for an ultimate big-screen experience."
Yash signed off by saying, "It's not just limited to the first-day first shows. We'll be celebrating #PathaanDay on January 25. On January 26, #RepublicDayWithPathaan. For the long weekend, #PathaanWeekend. For our first day first show screenings, we are expecting over 50,000 people."
Pathaan releases in cinemas on January 25, 2023. Also starring Deepika Padukone and John Abraham, it is directed by Siddharth Anand and produced by Aditya Chopra's Yash Raj Films.
View this post on Instagram
Also Read: Trailer of Shah Rukh Khan starrer Pathaan to be screened on the iconic Burj Khalifa!